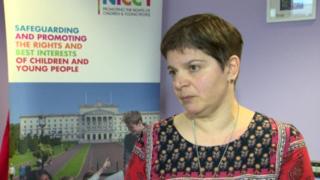 A paramilitary-style gun attack on a teenage boy in Londonderry has been described as child abuse.
The 17-year-old was shot in the leg on Wednesday and is recovering in Altnagelvin Hospital.
The teenager's mother was also assaulted in the attack.
Koulla Yiasouma, the Commissioner for Children and Young people in Northern Ireland, said there is a moral duty to make sure the people responsible are brought to justice.
She said such attacks have a devastating impact on young people's lives.
"It has to stop, some people say this is a complicated issue – it really isn't. People are hurting our children.
"Every time I hear about an incident like this a bit of my heart breaks. It is horrific that in 2017 people can go on to our streets and into people's homes and assault and abuse them in this way.
"It's outrageous and unacceptable. It was unacceptable 20 or 30 years ago and is definitely unacceptable now."
The teenager was shot in the leg after a gang of masked men forced their way into the 17-year-old's home at Gartan Square at 22:45 GMT on Wednesday.
One of the masked men was armed with a baton or wooden bat and another had a handgun.
The Catholic Bishop of Derry, Dr Donal McKeown, condemned the attack.
"We have learned over these last 30 or 40 years that abusing children in this way, by blowing kneecaps off does not solve any problem," he said.
The attack is the second in the city in the last week.
On Tuesday night, a a masked gang, one of whom was believed to be armed with a gun, forced their way into a home in the Altcar Park area of the city.