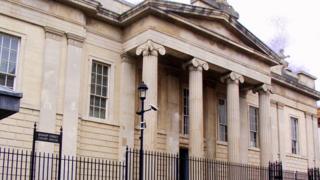 A man who told police he was driving a tractor around Londonderry city centre "looking for women", has been fined.
Anthony Breslin, 18, a farm worker from, Gortnaskea, Burnfoot, was caught driving his tractor around the city on 16 August.
The County Donegal man admitted one charge of driving a tractor without displaying L-plates.
Breslin's solicitor said: "We all know tractors are all about pulling power, but this is taking it to the extreme."
He said his client's father had "sent him out looking for cattle and he'd done that but then took the head staggers and came to Derry on the tractor looking for women".
The district judge, Barney McElholm, described Breslin as a "Don Juan".
"I was going to say Derry Juan but that is not quite correct," he added.
Breslin was fined £50.