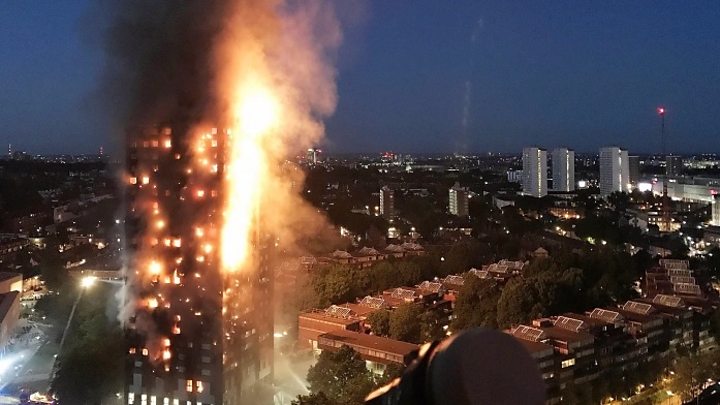 Twelve people have died in a west London tower block fire and the number of deaths are expected to rise, police have said.
Firefighters rescued 65 people from Grenfell Tower in north Kensington, after they were called at 00:54 BST.
Eyewitnesses said people were trapped in tower block, screaming for help and yelling for their children to be saved.
Policing and fire minister Nick Hurd said checks are now planned on similar tower blocks.
The ambulance service said 68 patients had been taken to six hospitals across London, with 18 in critical care. A further 10 patients made their own way to hospital.
During the night, eyewitnesses said they saw lights – thought to be mobile phones or torches – flashing at the top of the block of flats, and trapped residents coming to their windows – some holding children.
It is understood that "several hundred" people would have been in the block when the fire broke out shortly after midnight, most of them sleeping.
An emergency number – 0800 0961 233 – has been set up for anyone concerned about friends or family.
Commander Stuart Cundy, of the Metropolitan Police, said: "Sadly I can confirm that there are now 12 people that have died that we know of.
"This is going to be a long and complex recovery operation and I do anticipate that the number of fatalities will sadly increase beyond those 12."
He said several people were still unaccounted for,
"Sadly, I don't anticipate there will be further survivors," he said.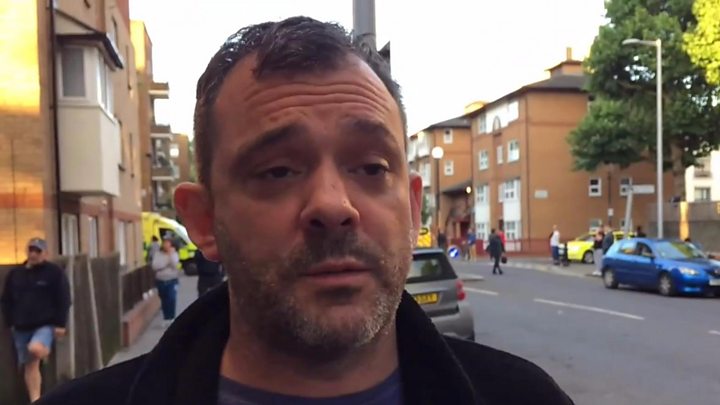 London Fire Brigade Assistant Commissioner, Steve Apter, said there were "still pockets of fire yet to be extinguished in places particularly difficult to reach" but "almost all" of the building had been searched.
The service was using drones to help assess the integrity of the building, so the fire service could plan its next steps, he said.
"We certainly intend to be here through the night," he said.
Paul Munakr, who lives on the seventh floor, managed to escape.
"As I was going down the stairs, there were firefighters, truly amazing firefighters that were actually going upstairs, to the fire, trying to get as many people out the building as possible," he told the BBC.
He said he was alerted to the fire not by fire alarms but by people on the street below, shouting "don't jump, don't jump".
Eyewitness Jody Martin said: "I watched one person falling out, I watched another woman holding her baby out the window… hearing screams.
"I was yelling at everyone to get down and they were saying 'We can't leave our apartments, the smoke is too bad on the corridors.'"
Grenfell Tower underwent a two-year £10m refurbishment as part of a wider transformation of the estate, that was completed last year.
Work included new exterior cladding and a communal heating system.
The 24-storey tower, containing about 120 flats, is managed by the Kensington and Chelsea Tenant Management Organisation on behalf of the council.
Before and during the refurbishment, the local Grenfell Action Group claimed that the block constituted a fire risk and residents warned that site access for emergency vehicles was "severely restricted".
Policing and fire minister Mr Hurd said checks were now planned on tower blocks that have gone through similar refurbishment.
Construction firm Rydon, which carried out the refurbishment, said it was "shocked to hear of the devastating fire" and added that the work "met all required building control, fire regulation and health and safety standards".
In a statement, Kensington and Chelsea Tenant Management Organisation, said it was "too early to speculate what caused the fire and contributed to its spread".
It added: "We are aware that concerns have been raised historically by residents.
"We always take all concerns seriously and these will form part of our forthcoming investigations.
"While these investigations continue with our co-operation, our core priority at the moment is our residents."
Council leader Nick Paget-Brown said the buildings were regularly inspected, but a "thorough investigation" was needed.