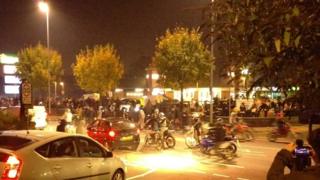 A case has been dropped against a man accused of being involved in a gang behind a Halloween "ride-out" which caused chaos in Leeds.
Thirteen people were jailed at Leeds Crown Court after bikers tore through streets last year, which was likened to scenes from the film Mad Max.
Hernani Banza, 27, of Shafton View, Leeds, had pleaded not guilty to causing a public nuisance charge.
The Crown Prosecution Service offered no evidence against him.
More than 100 bikers congregated in Kirkstall Road before riding into the city, disrupting traffic and driving through pedestrianised areas on 31 October.
West Yorkshire Police said it had received about 160 calls from members of the public, some of whom had likened it to scenes from the Mel Gibson film.
Following the "ride-out", Leeds City Council secured an injunction banning people from anti-social driving of vehicles, including motorbikes and quad bikes, in any public place where it involves two or more vehicles.