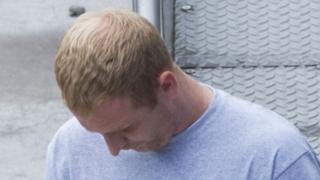 A convicted murderer on home leave who tried to kill a dog walker could receive a second life sentence.
Robbie McIntosh, 32, attacked Linda McDonald in August before dragging her from a path in Templeton Woods.
McIntosh was jailed for life in 2002 for stabbing a dog walker to death on Dundee Law when he was 15-years-old.
Prosecutors have now asked for a risk assessment to be carried out on McIntosh to allow a judge to consider an order for lifelong restriction.
At the time of the latest attack, McIntosh was to be considered for parole and had been allowed home leave in preparation.
He hit Mrs McIntosh with a dumbbell, leaving her with two skull fractures and a badly damaged thumb.
She was left with permanent scars and now suffers from anxiety and sleeplessness.
Lord Arthurson said: "I am aware of the Crown motion and grave concerns which I have about the level of risk presented by Mr McIntosh."
He made the risk assessment order and continued the case until February.