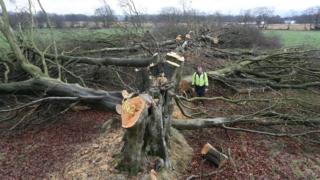 A man has been fined £112,197 for illegally felling 200 ancient beech trees without a licence.
Keith Smith, 62, of Blackwood, Caerphilly county, admitted cutting down the trees with his two sons in January this year.
Newport Magistrates' Court heard he was a former tenant at a farm in Manmoel where the trees were destroyed.
He failed to appear in court and was sentenced in his absence.
Environment body Natural Resources Wales (NRW) said it discovered the remains of the hedgerow beech trees amounting to 200 cubic metres of felled timber .
The legal limit of trees allowed to be felled by a landowner in a three month period is five cubic metres and an NRW investigation found no felling licence was in place.
NRW said the felled trees were very mature and provided a valuable habitat for wildlife, so it would never have granted a licence for their removal.
It said it believed Smith had felled the trees for financial gain, but its investigation found the timber had been prevented from entering the open market.
Tim Jones, NRW's executive director, said: "The loss of these veteran trees, which were hundreds of years old, is devastating and it will take many generations for new trees to grow to replace them, if they grow at all.
"Like many things in our environment, trees are often taken for granted. Felling licences are part of the system we have in place so we can manage our trees and woodlands effectively, protecting them and making sure they continue to benefit us all now and into the future."