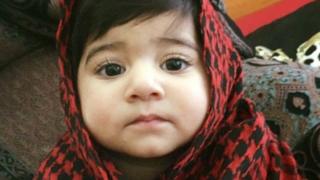 A woman accused of murdering her toddler daughter told a police officer that the child had choked on a piece of bread.
Sadia Ahmed, 28, gave a statement to Det Con Helen Morrow after 14-month-old Inaya Ahmed was rushed to hospital.
Mrs Ahmed claimed she had given her daughter a piece of white buttered bread before she started to choke.
She denies murdering Inaya at the family home in Drumchapel, Glasgow, on 17 April last year.
Mrs Ahmed told the police officer she patted Inaya's back several times "to try and stop her coughing" as that had worked in the past.
She added: "What could I do? Normally when Inaya takes food down her throat she brings it back up.
"She was holding the bread and I put it in her mouth to encourage her to eat. She did begin to chew.
'Not forced to eat'
"My hand was not near her mouth. I am very patient with my daughter. I did not force her to eat."
Mrs Ahmed said that, when she was unable to stop her daughter coughing, she screamed for her mother-in-law who also tried to clear the blockage.
Another member of the family then called an ambulance.
The High Court in Glasgow heard that the statement was not signed because Mrs Ahmed was called to her daughter's bedside.
Inaya's life support machine was switched off on 20 April last year.
Earlier, Det Sgt Kevin Brown told the court that he had been asked to look for bread in Mrs Ahmed's bedroom and in her mother-in law Noor Ahmed's room and found none.
Prosecutor Paul Kearney asked Det Sgt Brown: "Were there any loaves of bread in the kitchen?" and he replied: "Yes, on the kitchen floor near the patio door."
When asked how many loaves there were, he said: "Four brown loaves."
He was asked if there was any white bread in the cupboards, and said: "No."
The trial continues.