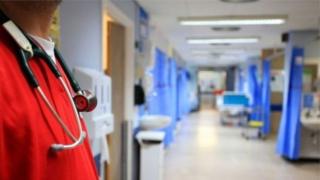 A public inquiry into the deaths of five children in hospitals in Northern Ireland has published allegations by a whistleblower.
The children all died from hyponatraemia-related conditions.
These can occur when the level of sodium in the blood becomes abnormally low.
The Hyponatraemia Inquiry was set up in 2004 – its publication has been delayed several times.
A solicitor for one of the families said that once the inquiry publishes its findings they will consider asking the police to investigate the whistleblower's claims.
The inquiry is looking into the deaths of Conor Mitchell, 15; Raychel Ferguson, nine; Claire Roberts, nine; Adam Strain, four; and 17-month-old Lucy Crawford.
They died in hospitals between 1995 and 2001.
The inquiry is due to publish its findings at the end of the month, 13 years after it was first established.
The whistleblower's claims have been published on the Hyponatraemia Public Inquiry Website as part of correspondence between its chair and the directorate of legal services.
The whistleblower, who works for the Western Health Trust, raised questions over searches of a premises in the Western Health and Social Services Board in 2004.
The findings of the Health and Social Care Board's internal inquiry, published on Wednesday, was that there was no evidence to suggest that information had been deliberately removed or that searches had not been carried out adequately.
The family of Raychel Ferguson is one of those questioning those findings.
Raychel died after being administered with a lethal dose of intravenous fluids in 2001.
Des Doherty, the family's solicitor, said they firmly believed the board's investigation was "without merit" and that the family remained of the view that there had been an attempt to cover-up the truth.
A spokesperson for the Health and Social Care Board said a full and thorough investigation had been carried out, which found no evidence to support claims of any "deliberate attempt to remove evidence" or "any deliberate attempts to destroy evidence or equipment".
A spokesperson also said that the board was confident that no evidence was withheld from the inquiry.