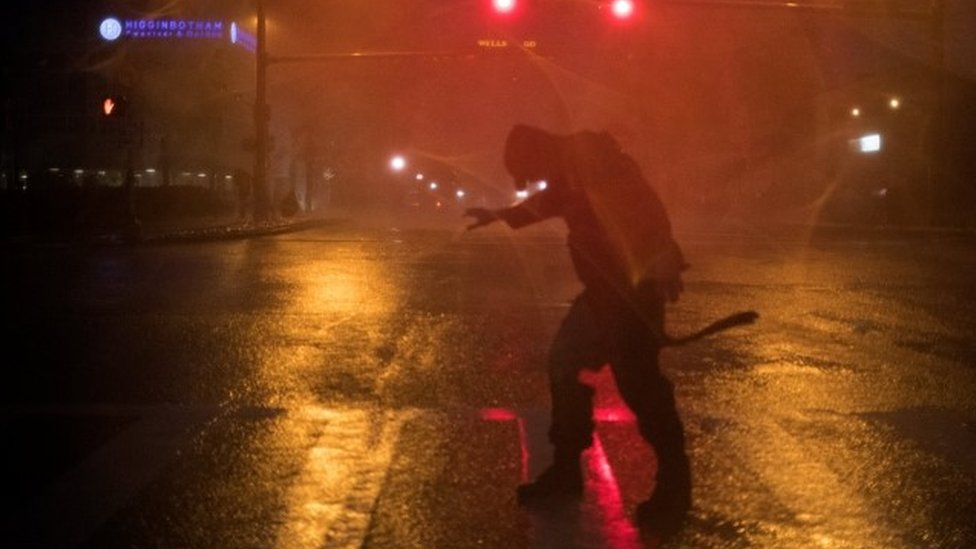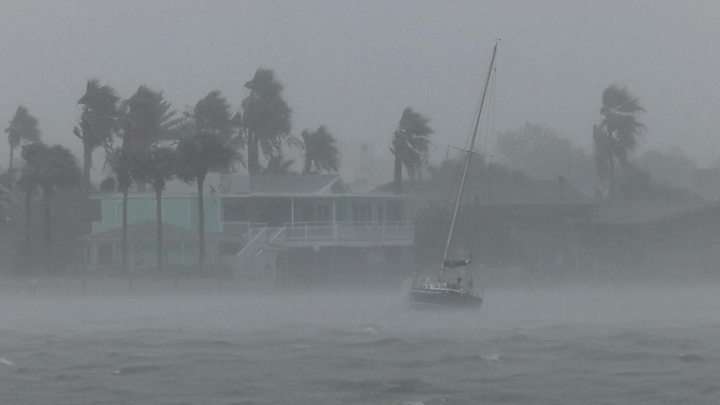 Hurricane Harvey has slammed into Texas with winds of up to 130mph (215 km/h) battering coastal areas.
The storm, which has even stronger gusts, is the most powerful to hit the US mainland for 12 years. Up to 40in (1m) of rain is expected to fall.
President Donald Trump has signed a disaster proclamation for the state, which will free up federal aid for the worst-affected areas.
Texas Governor Greg Abbott has warned of record flooding in multiple regions.
Harvey made landfall around 22:00 local time (03:00 GMT) as a Category 4 storm, and has already brought down trees and cut power in the city of Corpus Christi. Thousands of residents have boarded up their homes and fled.
About three hours after it struck, the storm was downgraded to Category 3 after winds dropped slightly to 125mph (201km/h). It remains life-threatening, and capable of causing major damage to buildings.
The mayor of coastal Rockport, Patrick Rios, urged the few remaining people in the 10,000-strong town to leave immediately.
The city manager said people were trapped in a housing centre for elderly people, where the roof had collapsed and rescue teams were unable to gain access, according to CBS.
Long queues of traffic have been heading out of the storm's path.
Governor Abbot said it was obvious Texas was confronting a "very major disaster", and more than 1,000 National Guardsmen were to help with the disaster relief operation.
High winds began lashing the coast at nightfall on Friday as coastal water levels rose at the same time.
This storm is terrifying
By BBC's James Cook, Corpus Christi
As we approached this coastal city across a series of causeways and bridges, darkness was falling and the flooding was already beginning, with frothing waves eating at the road.
At one point our car was blown sideways across several lanes by the force of the wind, and every few minutes a bolt of lightning would illuminate the sky with an eerie green flash.
By the time the eye of the storm was making landfall just 30 miles up the coast we were hunkered down inside a hotel, listening to the noise of screeching wind punctuated by the occasional crash.
I watched from a doorway at the side of the hotel as the wall of a large metal building under construction came smashing to the ground.
Thick palm trees have also been brought down and by the glow of street lamps and the flashes of lightning, you can see that the air is thick with driving spray.
This storm is powerful, it is dangerous and it is terrifying.
Harvey is the first major storm of the Atlantic hurricane season and has severely hampered Gulf of Mexico oil production and air travel.
Storm surges of up to 12ft (4m) are expected over the next few days and the National Hurricane Center warned of life-threatening floods in and around Houston.
Forecasters say the storm's path is uncertain but it is expected over the next few hours to be near or just inland of the middle of the Texas coast.
Mr Trump is likely to visit Texas early next week, the White House said.
In pictures: Texas braces for Hurricane Harvey
The storm is likely be the strongest storm to hit the US since October 2005, when Hurricane Wilma struck the coast of Florida.
Wilma left 87 people dead and was part of a record-breaking hurricane season that included Katrina, which devastated New Orleans and killed nearly 2,000 people in August of that year.
The last category four storm to hit the US was Charley in August 2004.
What are the dangers?
While Harvey is packing strong and potentially devastating winds, the biggest threats to Texas are rainfall and the storm surge.
Meteorologists say Harvey could remain in the area, dumping rain until the middle of next week.
Oil-rich Houston, the fourth biggest city in the US, could face up to 20in of rain over the coming days.
On top of that, the central Texas coast is likely to see a significant storm surge – this happens when low pressure at sea "lifts" tides to a level higher than normal, and high winds then blow the water inland.
The NHC said it expected "catastrophic flooding" across the coast and in some inland areas throughout south-east Texas.
Parts of Texas are already seeing a storm surge 2.5ft above normal.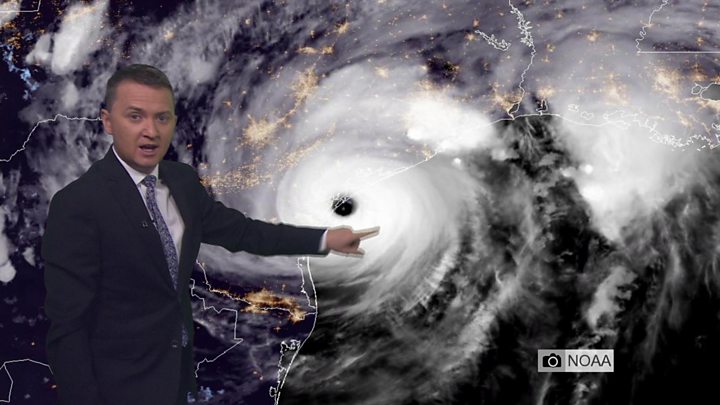 About 45% of US oil refining takes place on the Gulf of Mexico coast, and Corpus Christi is an important port for the industry.
Crude oil production has slowed down by about 20% to prepare for the storm, and fears Harvey could lead to a shortfall in fuel have helped drive up prices.
Long queues of cars have been spotted leaving central Texas and the British band Coldplay cancelled a Friday night concert in Houston.
At least 20,000 passengers on three cruise ships have been unable to disembark in Galveston, Texas, cruise operator Carnival Corp said.
The Houston Chronicle reported they, and the passengers on one other ship, might need to stay out at sea until the middle of next week.
Meanwhile, Driscoll Children's Hospital in Corpus Christi has flown at least 10 babies from its neonatal intensive care unit to hospitals further inland, due to fear of power failures.
Are you affected by Hurricane Harvey? Let us know about your experiences. Email haveyoursay@bbc.co.uk with your stories.
Please include a contact number if you are willing to speak to a BBC journalist. You can also contact us in the following ways: