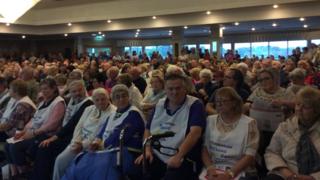 More than 600 people have attended a meeting in County Fermanagh to listen to plans which could see the reshaping of stroke services in their area.
There are fears the plans will lead to the downgrading or closure of the South West Acute Hospital's Stroke Unit.
The organisers said they want to make it clear that any attempt to downgrade or remove services would be opposed.
A Public Health Agency representative said she attended the meeting to listen to the public.
She said that no decisions had been taken.
The campaigners who turned up at the Killyhevlin Hotel said they fear that if the service is moved and people have to travel to Altnagelvin Hospital for treatment they will miss out on the critical "golden hour" – the first hour from the onset of stroke symptoms to the start of assessment and treatment.
Louise Hardman and her 75-year-old husband Wayne live just outside Enniskillen.
He had a stroke in June and Mrs Hardman said reaching the hospital quickly was crucial.
"It was absolutely critical – we knew we had an ambulance journey ahead of us but we knew we had to be at the South West Acute Hospital within an hour, if not less. That golden hour, it was critical," she said
A stroke is a condition where the blood flow to the brain is reduced by a bleed or a blood clot.
A delay in assessing and treating a person's condition will impact on how a person's speech, movement, and eyesight is affected.
In June the Health And Social Care Board announced plans to consult the public on re-shaping how stroke services are delivered across the five health trusts.
At the moment there are a range of services across 11 sites with medical professionals arguing that expertise is being spread too thinly.
The BBC understands that the number of acute services could be reduced to four sites with a range of other services available elsewhere.
People in Fermanagh however are arguing that their service is outperforming other units in Northern Ireland and should be left alone.
Time is of the essence when dealing with a stroke and all patients should receive assessment for clot busting treatment as soon as possible.
According to the national Sentinel Stroke Audit Programme, between December and March this year the stroke unit at South West Acute Hospital was the best performer in NI.
It rated the highest in its time for delivery of thrombolysis clot busting drugs;
For its time between arrival in hospital and patients having a brain scan;
Time to admit a patient to a stroke ward and time to assess a patient by a consultant and a specialist nurse.
Dr Brid Farrell from the Public Health Agency said: "We are here to listen to the public, to hear their views to work with the public to co-design future stroke services in Northern Ireland.
"No decisions have been made."