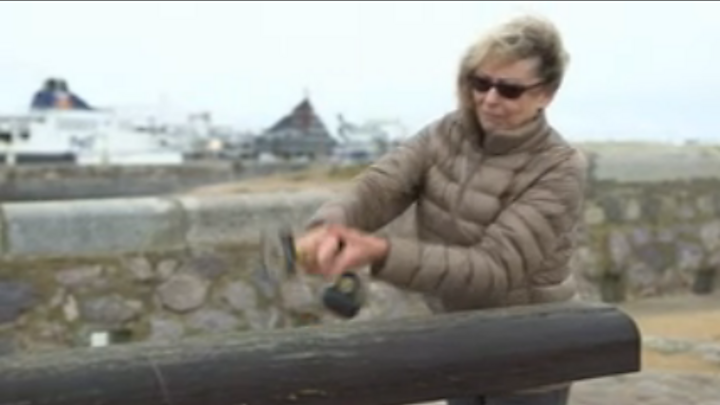 Cross-Channel trade in weapons banned in the UK has been exposed by an ex-police and crime commissioner (PCC) who was able to buy a stun gun in France.
Ann Barnes, who was shown how to use the gun in the shop, also investigated internet sales of the weapon, for the BBC's Inside Out.
Government figures showed 729 stun guns were seized at the UK border in 2015-16 – a 71% rise on 425 seized in 2012-13.
The Border Force said the key was to seize them before they entered the UK.
Mrs Barnes, who served as Kent's PCC for four years, until April 2016, investigated claims criminals were heading to France to buy the tools of their trade and smuggle them into the UK – a trip dubbed a "tool cruise".
'Like grocery shopping'
She found one shop was sold out, but said: "In the meantime, I've discovered you don't even have to leave the country to get hold of a stun gun."
Mrs Barnes found internet sites that shipped stun guns to England within four working days – and provided a phone number and a tracking order.
"It's like grocery shopping online," she said.
The investigation took her to the Heathrow Worldwide Distribution Centre, where all mail entering the UK under 2.5kg is sorted.
At the centre, X-ray machines are used to find restricted or prohibited items.
James Morgan, Border Force deputy director of postal and aviation, described their operation as "the thin, blue line".
He said UK law treated stun guns exactly the same as a pistol or a machine gun and those caught carrying them face a minimum five-year jail term.
"What we can't do is enforce UK law outside of the UK's territorial boundary," he said. "When it hits the border it's a criminal offence to import it.
"We treat these as firearms because the law treats them as firearms and for my team here it's our highest operational priority."
Official figures also showed 633 stun guns were seized in 2013-14 and 604 in 2014-15.
Mr Morgan added: "We have seen an increase in the number that we're seizing at the border but the key thing is that once my officers have found the device it doesn't get into the country."
Tony Saggers, a former National Crime Agency officer, said stun guns were a less high-profile weapon, so more likely to be on the street.
He said: "When they're used they create less fuss within the community, they bring less attention from the police to the person using it.
"So my concern is that they're being used more than we know because victims aren't reporting the incidents as frequently as you would do if you were shot with a conventional gun."
Eventually, Mrs Barnes bought a stun gun at a shop in St Omer, near Calais, where she was also shown how it worked.
She did not try to bring the stun gun back across the UK border, but destroyed it with a mallet.
"Although we don't know how many of them have actually made it into the UK, this one, for certain, is going nowhere," she said.
See more on this story on Inside Out, on BBC One South East and South on Monday 11 September at 19:30 BST, and later on the BBC iPlayer.