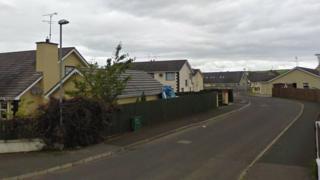 A number of houses have been evacuated after a security alert in Lettershandoney, near Drumahoe, County Londonderry.
Police said they are in attendance at the alert in Oeghill Park.
SDLP councillor Jim McKeever told the BBC he has been to the scene and believes it relates to a "suspect device" left at a property.
He said between 10 and 15 houses had been evacuated.
Mr McKeever said residents were now waiting for army bomb disposal experts.
"People are angry that they've had to leave their homes," he told the BBC.
"Whether it's a viable device or a hoax, it is still an inconvenience to people, in the week that children go back to school. It's a whole upheaval."
He said the area was "fairly quiet". "I grew up in it and it's something that we don't need here," he added.
The local community association has opened up its hall to residents.