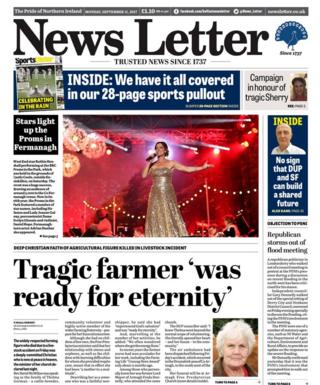 The Belfast Telegraph's front page features a father-of-two who has a blood clot on the brain after being beaten up having been at a wedding party in County Antrim.
Fitness instructor Andrew Barr was discovered in a grass area near the Leighinmohr House Hotel in Ballymena on Friday morning. He has undergone surgery after sustaining severe brain injuries and a punctured lung.
The story is also covered by the Daily Mirror, with Andrew's mother Amanda telling the newspaper that the 32-year-old is in "an awful lot of pain" and concentrating on "trying to get through the next few days".
"This is just wrong," she said. "No-one should suffer like Andrew has."
The Mirror also reports on a nine-year-old boy who is in a critical condition in the Royal Victoria Hospital in Belfast after being struck by a car in Ballymena.
The boy was struck by a black Toyota Avensis car on the Glenravel Road at about 17:00 BST on Saturday.
The Belfast Telegraph has an extensive interview with DUP MLA Paula Bradley who says she faced repossession of her house after she and her husband separated. She said her parents helped prevent her family being evicted by taking out a loan and paying what she owed.
Ms Bradley also says she believes same-sex marriage will be legalised in Northern Ireland "in the next decade".
Bonfires make the front page of the Irish News, in particular the revelation from Orange Order Grand Secretary Mervyn Gibson that loyalists considered building bonfires "on every street corner" in response to a legal challenge to pyres on Belfast City Council land in July.
Rev Gibson praises loyalist figures who helped calm tensions and says the decision not to go ahead with the protest "reflected well on that community".
Elsewhere, he says that in the event of direct rule in Northern Ireland, the Orange Order would be lobbying Westminster for the scrapping of the Parades Commission as well as new legislation to deal with controversial marches.
Commissioner Nóirín O'Sullivan's announcement that she is retiring as head of the Irish police makes the headlines in the newspaper.
Ms O'Sullivan had faced several opposition calls to stand down over a number of issues, including her handling of police whistle-blowers and the disclosure that police officers had significantly exaggerated the number of breathalyser tests carried out.
She said she had been trying to rectify the failures and mistakes of the past and was dealing with an "unending cycle".
Ms O'Sullivan said she was retiring after 36 years of privileged, enjoyable and proud service.
'Century of peace'
The News Letter leads with tributes to County Armagh cattle breeder Thelma Gorman who died in an accident involving a cow on a farm in the Drumhirk area on Friday.
The former Lord Mayor of Armagh, Freda Donnelly, who knew Mrs Gorman for many years, said the 67-year-old was a committed Christian and dedicated volunteer in the community.
"I knew Thelma went beyond the normal scope of volunteering," she said. "She literally opened her heart and her house to the community."
The Belfast Telegraph says Mrs Gorman was "a hero" who had been trying to restrain the cow after it attacked her husband and knocked him to the ground.
The findings of a Health and Safety Executive Investigation are yet to be made public.
The News Letter also reflects on the Dalai Lama's plea for a "century of peace" during the start of a two-day visit to Northern Ireland.
He visited Londonderry on Sunday as the patron of the charity Children in Crossfire and said thinking that led to warfare was "outdated".
The 82-year-old told those gathered in Derry that it was time for "human beings to work together – think about humanity, not 'my nation'… Not 'Londonderry' or 'Derry'."