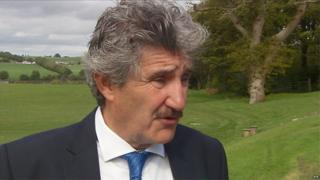 John Halligan, an independent left-wing TD from Waterford, was a member of the Workers Party at a time when it had close links to communist countries including North Korea.
He is also a minister in a department that has responsibility for workers' rights.
Newspaper headlines in recent days do not make happy reading for him.
It has emerged that he asked a women in a job interview last year whether she had a partner.
'Innocent mistake'
"I shouldn't be asking you this," he said to her. "But are you married? Do you have children? How old are the children?"
She said she was taken aback and replied that she was married, had two children and told him their ages.
"You must be very busy," he retorted.
The woman complained to the independent Workplace Relations Commission, saying that she was discriminated against.
The commission agreed and now the tax payer will have to pay her €7,500 (£6,650) in compensation.
Such questions in job interviews have not been allowed since the 1990s.
Mr Halligan, who is on to trade mission to Thailand, said he regretted what had happened and had not meant to cause offence but was trying to put the woman at ease.
But he accepts he made "an innocent mistake".
He said: "I have always strived to be a family-friendly employer.
"The people I have working for me have kids and I try to be as flexible as possible.
"The question was asked in that context."
Mr Halligan has also been in the news over a suggestion that he and two other ministerial members of the Independent Alliance should, in a personal capacity as individuals rather than ministers, go to North Korea to try to defuse tension between Kim Jong-un's regime and the United States over the secretive country's nuclear bomb tests.
The three have faced ridicule over the proposed visit with the Minister for Foreign Affairs, Simon Coveney, and the Taoiseach indicating that while they couldn't stop them going they didn't support the trip.
Several opposition politicians and commentators have wondered whether Mr Halligan is simply being nostalgic for his Workers Party days, while others have raised their eye-brows at Transport Minister Shane Ross' plan to go to North Korea at a time when there's an on-going rail dispute.
Other members and supporters of the Independent Alliance have let it be known they don't support the visit.
Mr Halligan, a colourful and resourceful 62-year-old politician, has often been in the news since he was elected a TD, but there is speculation in his native Waterford that he may not seek his re-election to the Dail.