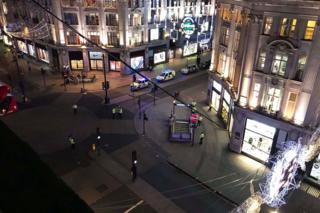 The evacuation of Oxford Circus station was sparked by a member of the public claiming they heard a "gunshot", a leaked TfL document has shown.
It says there were "various differing reports of what the incident actually was" – leading to confusion.
The Deputy Mayor for Transport says questions need to be asked about whether the evacuation could have been handled better.
Nine people suffered minor injuries in the rush to get out of the station.
Elsewhere during Friday's incident, shoppers in Selfridges were told to "evacuate" the store, despite people being advised by police to go inside nearby buildings.
Specific details about the Oxford Circus evacuation have now been revealed in the leaked document.
At 16:39 GMT station staff received a report of a "discharge of a firearm" on the westbound Central line platform.
Oxford Circus was then evacuated as armed police entered the station at 16:45 GMT.
At the same time the incident was escalated to a "category one".
Armed police left the station at 17:10 GMT, and Tube staff were given permission to re-open Oxford Circus at 17:34 GMT.
It was not until 18:27 GMT that the incident was "withdrawn".
The TfL document says CCTV later revealed that people on the platform "dispersed quickly" as an "altercation" occurred.
It appears there was also confusion on Oxford Street as people fled the area.
At 16:55 GMT Selfridges said it was told to evacuate on the advice of the Met Police.
A spokeswoman said: "We work closely with the police and would never [evacuate] on a hunch.
"There was a rumour there was a gunman in the store. When people were rushing down from Oxford Street, they came in and continued panicking.
"Items, like glass, were knocked over [in the rush] and made quite a noise on the marble floors.
"It all stemmed from Oxford Circus, and police were in our store."
However, conflicting tweets sent out by the Met Police at 17:07 GMT advised people on Oxford Street to "go into a building".
The Deputy Mayor for Transport, Val Shawcross, said: "I think at the time the police and TfL staff managed it as well as they could, but of course in any incident like this you do look closely at what happened, why it happened and why in particular there were some injuries.
"Every time there is an incident of this sort it is really important that police and transport services look at exactly what happened, and could we have managed that situation better?
"Clearly there is an issue about getting people out of stations very quickly, and that is something I think is worthy of more examination.
"How do we evacuate people really, really quickly in a situation where there is probably some panic?"