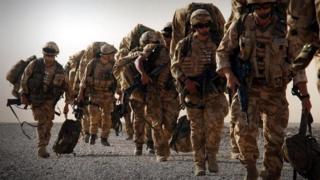 A senior US general has warned against deeper cuts to Britain's armed forces.
Lt-Gen Ben Hodges, commander of the US Army in Europe, said Britain's position as a key ally and a leading member of Nato would be at risk if its armed forces "got any smaller".
The Army, Royal Navy and RAF have been told to make cuts, as the MoD attempts to make £20bn of efficiency savings.
It comes as new UK Defence Secretary Gavin Williamson has spoken of the "rising threats" facing the nation.
Mr Williamson is attending his first Nato Defence Ministers meeting in Brussels where he is expected to meet the US Defence Secretary, James Mattis, for the first time.
Institution 'degraded'
In an exclusive interview with the BBC, Lt-Gen Hodges said that if the UK "can't maintain and sustain the level of commitments it's fulfilling right now, then I think it risks kind of going into a different sort of category".
The warning reflects concern from Britain's closest ally as the government carries out a defence and security review.
All three of its armed forces have been asked to put forward options for cuts as the Ministry of Defence struggles to control spending.
It is one of the biggest challenges facing Mr Williamson, who replaced Sir Michael Fallon as defence secretary following his resignation last week.
General Hodges has consistently urged Nato allies to do more to meet the threat posed by Russia.
During his three years as Commander of the US Army in Europe he has overseen an increased American military presence and a higher tempo of training and exercises.
Most Nato countries have reversed recent defence cuts.
But General Hodges warned that if Britain cut its forces further, then "it takes the pressure off other countries" to spend more on defence.
The Royal Navy's list of saving options include cuts to the Royal Marines as well as axing the Navy's two amphibious assault ships, HMS Albion and HMS Bulwark.
That would limit Britain's ability to carry out beach assaults using landing craft.
Responding to those reports, General Hodges said: "I'd hate to lose that particular capability… Whenever you take something off the table unilaterally then you've just made the job a little simpler for a potential adversary."
He also expressed concern about cuts to the Royal Marines.
He said some of the best British officers he had served alongside had been Royal Marines – naming the current vice chief of the defence staff, Gordon Messenger, as an example.
Global commitments
"I'd hate to see the institution that produces men like that degraded," he said.
Nor does he wants to see further cuts to the British Army.
British troops are currently deployed side-by-side with US forces training in Iraq and Afghanistan and bolstering the defence's of Eastern Europe in response to the threat from Russia.
With all those commitments, General Hodges warned against more reductions.
"I don't see how you could maintain those global commitments if you got any smaller," he said.
The British Army has already been cut from 120,000 to 82,000 regular troops.
However, it is struggling with recruitment and its current strength is just over 78,000 soldiers.