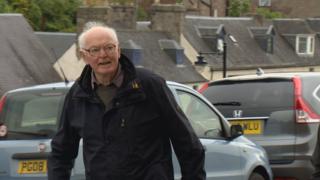 A former head teacher at a Catholic boarding school in the Highlands has gone on trial accused of assaulting boys in his care.
Father Benedict Seed, 83, is charged with assaulting eight pupils at the now closed Fort Augustus Abbey school in 1970s and 1980s.
Inverness Sheriff Court heard that the alleged attacks included hitting boys with a hockey stick and a golf shoe.
Appearing under the name Thomas Michael Seed, he denies all the charges.
The jury heard from 50-year-old former pupil Paul Curran who now works in Hong Kong.
'Rage' attack
He told the court that corporal punishment was used "extensively" at the school, but said he "lived in fear" of Father Seed who "haunted his dreams for many years" after he left the institution.
Mr Curran recalled one occasion when Father Seed, who was housemaster at the time, heard him swear at another boy in the dormitories.
He said the priest "got worked up into a rage" and "dragged me from my bed to his study by the scruff of the neck".
He told the court that Father Seed, who he said was "extremely angry", belted him, hitting him several times on the wrists making them bleed.
Mr Curran said "this was not corporal punishment, this was an attack made in rage".
The court also heard from 50-year-old Michael Mungavin, who attended the school at the same time as Mr Curran in the late 1970s and early 1980s.
Four strikes
He described an incident when he was 11 years old in which a group of boys were "horsing around" at the school's swimming pool.
Mr Mungavin told the court that he and two other boys had thrown a fellow pupil into the pool but the stunt had gone wrong and the boy had bumped his head on the side.
He said Father Seed, whose temper he described as "explosive", berated them and then summoned the three boys to his study.
Mr Mungavin said he was given four strikes on his buttocks from a bamboo cane which he said "left bruising and pretty severe stripes that lasted for a couple of weeks".
He added: "I thought and still think it [the punishment] was severe for the matter in hand."
The trial, being held in Inverness before Sheriff Gordon Fleetwood and a jury of nine men and six women, continues.