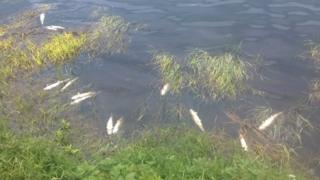 An investigation is under way after 43 fish were found dead in the Woodburn reservoir catchment area, near Carrickfergus, County Antrim.
NI Water said it had notified the relevant external agency, DAERA's marine and fisheries division.
It said it would work with DAERA to establish the facts.
NI Water said fish stocks had recently been restocked in the area and the deaths may be due to an oxygen deficiency during transportation.
The lower Woodburn reservoir was stocked with 1,000 brown trout on 10 May.
The agency said it was not able to provide "reliable indicators" of the number of fish affected as it was not responsible for stocking and maintenance of fish at the reservoir.
NI Water stressed there was no evidence of any other pollution incident in the reservoir.
"NI Water is clear that there is no impact from this incident on the final water quality leaving the treatment works," it said in a statement.
"NI Water's treatment facilities at the Dorisland water treatment works has numerous on-site water parameter monitors which continually check the quality of raw water entering the works and the quality of water going into the public supply.
"If anything is found that could affect the water quality, the site will automatically shut down and water will be taken from other areas to continue the supply.
"All water quality testing at the Dorisland site has shown satisfactory results."