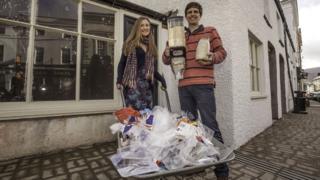 The first Welsh zero waste shop, selling food free of plastic packaging, is to open on the site of a former pub.
The Corn Exchange pub in Crickhowell was previously planned to be developed into part of a supermarket chain.
Now the new shop Natural Weigh, opening on the site in March 2018, will sell a range of organic products without packaging.
The plans have been welcomed by the Marine Conservation Society, which campaigns against plastic waste.
About 250 shareholders, mainly Crickhowell residents, banded together to protest the planning application for a supermarket in 2015, raising £500,000 to buy the pub themselves.
They are now converting it into three flats and three shops – including Natural Weigh.
The new proprietors said the shop will sell organic and plastic packaging-free products, with customers serving themselves from hoppers.
Consumers will bring their own containers, weigh them, and pick from a range of foods. They will then weigh the full containers again to see how much they are buying.
Customers who have not brought their own containers will be offered reusable alternatives.
Zero waste shopping is already popular in Europe and America but has been slow to catch on in the UK. The UK's first zero-waste shop is being run in Totnes by former Manchester United right-back Richard Eckersley.
Chloe Masefield, who will run the shop with her husband, said: "The throw-away consumer culture means that a growing number of unwanted plastic items are discarded into our seas every year, posing a threat to people and wildlife.
"Our shop will offer customers the chance to exercise their rights and allow them to choose an alternative."
The couple hope other local traders will help reduce plastic waste in the area.
Robin Masefield said: "We aim to give residents of Crickhowell and beyond the chance to do almost their entire household shopping without the need for disposable packaging and eventually reduce the amount of household refuse by over 50% for our customers."
Gill Bell, the Marine Conservation Society's Head of Conservation Wales urged people to try and shop zero waste: "The overuse of plastic packaging and single use plastics generally is spiralling out of control. But we know that people are happy to use less plastic – the success of the 5p carrier bag charge in Wales is testament to that."