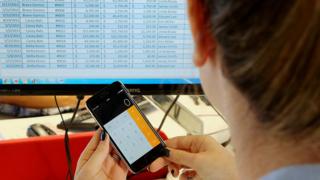 As many as 20,000 employees at schools in Essex have not been paid before the Bank Holiday weekend due to a payroll failure, a council has said.
Essex County Council said the issue affected 308 of its 549 schools.
"This has left me up the creek without a paddle," said Myree Clark, who works at a school in Colchester. "A lot of us have bills and kids to pay out for."
The council apologised to those who had not been paid on Friday and said the wages would come through on Tuesday.
A full investigation into what happened was under way, the council said.
But many questioned how the error had been allowed to occur, and why they had not been informed sooner.
"I wonder would the same relaxed attitude apply if we didn't pay our council tax due to an 'internal process error'?" commented one staff member on an Essex County Council Facebook post about the issue.
"I don't actually know how I'm going to feed my children over the weekend as all my direct debits have come out and am in the overdraft," wrote another.
'Huge mistake'
Kitchen assistant Mrs Clark said she was "upset and distressed" when she found out about the error.
"Straight away I'm thinking about rent, the Sky bill, our food shopping. My teenage daughter is going away with her friend this weekend and will want money. Where will I get it from now?
"Some of these things can't wait until Tuesday."
Colchester MP Will Quince, whose wife – a teacher – was one of those affected, praised Essex County Council for immediately launching a full investigation into the "huge mistake".
An Essex County Council spokesman advised any staff "who think they will experience particular difficulties over the bank holiday weekend" to call its customer contact centre.