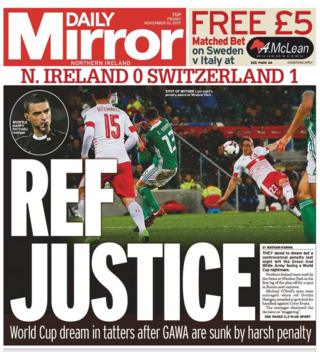 Sport makes its way onto the front pages again on Friday after a controversial penalty decision led to a 1-0 defeat for Northern Ireland in the first leg of their World Cup qualifying bid.
'World Cup dream in tatters' reads the Mirror front page.
"They dared to dream, but a controversial penalty decision last night left the Green and White Army facing a World Cup nightmare," it reports.
The Mirror says that Northern Ireland's chances of qualifying for the competition for the first time in 30 years are "hanging by a thread".
The paper does a good job of depicting the heartbreak felt by fans across pages two and three, where photographs from the fanzones and Windsor Park show shock, tears and despair.
It quotes Carl Frampton, who tweeted on Thursday night to say the referee had made things "a lot more difficult" for the GAWA, but "we can still do it".
"Michael O'Neill's men have a Swiss mountain to climb" is the Belfast Telegraph's headline.
"The road to Russia isn't done yet. However, it has suddenly got a lot harder.
"A home loss to Switzerland means it is now win or bust in Basel on Sunday for our World Cup dreams."
Also as part of the Belfast Telegraph's coverage of Thursday night's match is the news that fans staged a "mass parade" before the game, despite police warnings.
According to the paper, police warned Northern Ireland fans not to participate in an illegal procession before last night's World Cup game after it emerged that hundreds of fans planned to walk to Windsor Park after being urged to do so by one fan Facebook page.
'Setting off flares'
"Fans had begun to gather at the junction of Tates Avenue in south Belfast by 5.30pm, chanting and waving flags , setting off flares and beating a drum as the build up to the match got under way.
"The sheer number of fans who turned up could not be restrained, surging in an excited green and white tide towards the Windsor Park venue, leaving a carpet of litter behind them."
The News Letter also features the controversial defeat on its front page, calling the referees decision "dodgy".
'Double-murder accused'
It says fans were left "fuming" after Thursday night's match.
The paper quotes one fan, who tweeted that the refereeing had been "an absolute disgrace," but another tweeted "That was very harsh on Northern Ireland, but we're not out of it yet".
The News Letter also reports that double-murder accused Leslie Ross has died suddenly at home.
Mr Ross was charged with murdering two of his former girlfriends Michelle Bickerstaff and Margaret Weise.
Ms Bickerstaff, 47, was found dead in April 2012. She died in hospital after being found unconscious by her daughter in the house she shared in Dromore with Mr Ross.
Ms Weise, 50, was found dead in the town in August 2007.
The News Letter says that Mr Ross's death was confirmed to them by his solicitor.
It says that a spokesperson for the Department of Justice said Mr Ross had been released on bail in March 2016.
Court reporting restrictions mean that it is not yet possible to report how his case proceeded since 2015.
The paper quotes Ms Bickerstaff's daughter, who said "finally justice has been served for my mum and many more families, Leslie Ross has died."
The Irish News reports that Northern Ireland's biggest Catholic diocese is worth £140m.
Down and Connor had an income of close to £25m, with almost half of that coming from Sunday offertory donations, according to the paper.
Down and Connor consists of 87 parishes across large parts of Antrim and Down.
A spokesperson said the accounts reflected "the dedicated efforts of priests, religious and faithful and praised the work of so many professionals and volunteers throughout the diocese".
One of the top salaries in the diocese was also revealed, with one employee making between £110,000 and £119,000.