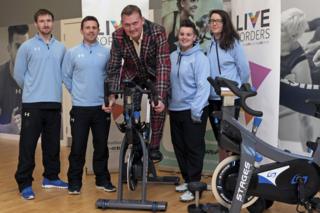 Rugby hero Doddie Weir has launched a pilot fitness programme for people with motor neurone disease (MND) and similar conditions.
The special sessions are being offered at the TriFitness Gym in Galashiels.
The former Scotland international said he had found great benefit in exercise since his own diagnosis.
He has been working with staff at the gym to deliver the pilot sessions aimed at helping people with MND to "get active and feel good".
"I have always taken the attitude that exercise does help," explained Mr Weir.
"It gets you mentally fit and mentally strong as well and with this issue that is the only kind of recipe I have at the moment."
'Little difference'
He said that exercise was one of the ways he hoped to deal with the disease.
"There was a drug that came out 22 years ago and nothing has been done since then – there's no medical research happening alone," he said.
"We have got to go out and find our own sort of 'cure' in some ways.
"This is one of the areas that I thought I will try and give a go."
Mr Weir, who set up his own foundation after he was diagnosed, said he hoped others might also find similar benefits to himself.
"MND is a muscle wasting disease. What is the best way to try and contradict that is trying to go and see if you can maybe put more muscle on and make life more difficult for the disease," he said.
"Hopefully that will make a difference, even if it is a little difference."