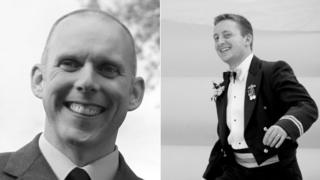 A helicopter crashed in Afghanistan, killing two RAF officers, after it struck a cable tethering an observation balloon, an inquest has heard.
Welsh-born Flt Lt Geraint Roberts, 44, from Reading, and Flt Lt Alan Scott, 33, from Wallingford, were part of a Puma helicopter force based at RAF Benson in Oxfordshire.
They died in 2015 while trying to land at Nato's headquarters in Kabul.
French contractor Gordon Emin, 44, and two US military personnel also died.
Four others on board were injured in the crash on 11 October.
'Near miss'
An inquest at Oxford Coroner's Court heard they were following another Puma when they had to abort their landings because the football pitch they were heading for was in use.
Sgt Simon Craig, who was travelling in the first aircraft, told the inquest he saw the second helicopter change its course suddenly.
He said: "I now know Puma 2 had hit the tether of the balloon."
Sgt Craig said the tether was "the width of your finger" and, despite having bright orange flags attached to it, "we all knew how hard the cable was to see".
He also said he had been told there had previously been a "near miss" where an aircraft had almost hit the cable.
'Out of control'
Coroner Darren Salter described the balloon tether as "an unusual obstruction" and said "this is a vertical wire that goes up 2,000ft or more".
One of the American passengers who survived the crash said the helicopter was "flying fine" until he heard "a loud pop" and it started to drop.
Flt Lt Karim Zid was piloting the first helicopter and, after he overshot the football pitch, he was told the other aircraft had suffered a "tail rotor failure".
He said: "[Puma 2] appeared to be twisting left and right, it appeared to me to be out of control, and the crew were struggling to keep it level."
The inquest is expected to last until Thursday.