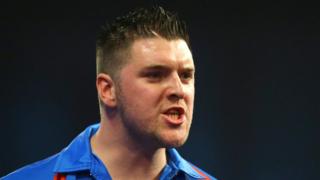 Aspiring sports stars at a Londonderry school are to benefit from the generosity of one of the world's leading darts players.
Derry-born and past pupil Daryl Gurney will pay for new kit for Lisneal College's hockey team and three football teams.
The darts champion is currently ranked number four in the world.
Lisneal principal Michael Allen said the school was delighted with the backing of the sports star.
"We had an appeal running on the school's very popular Facebook page and from that, there was an exchange of messages on Twitter with Daryl's sister Hayley," he said.
"The kids are absolutely over the moon that Daryl has agreed to sponsor the school teams."
'Throwing every lunchtime'
Known as "Superchin" on the darts circuit, the Derry man's professional stock has risen over recent years.
In October, Gurney claimed the biggest win of his career by taking the Grand Prix crown.
A former pupil of Faughan Valley High School in the city – one of the schools which merged to form Lisneal College in 2004 – Gurney has also promised to visit the school to pass on his know how to the darts club.
Mr Allen said the past pupil's rise up the rankings has sparked a resurgence of interest in the sport at the school.
"We've now around 25 pupils throwing every lunchtime, and there's one or two who are pretty good," he added.
"We were searching for a role model and now we have one."
Seeded number four for the upcoming PDC world championships, Gurney will face Belgian Ronny Huybrechts in the first round.