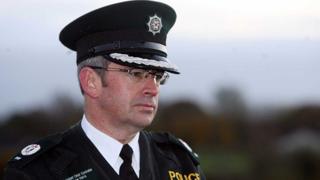 Crime is at its lowest level in Northern Ireland for almost 20 years, but paramilitary-style shootings doubled in the last year, according to the latest police crime statistics.
In 2016-17, just over 98,000 crimes were recorded by the police – a drop of 6.6% on the previous year.
There were 28 recorded paramilitary shootings over the same period.
Deputy Chief Constable Drew Harris said he wanted to assure communities "we are continuing to focus on these crimes".
There was also an increase in the number of casualties resulting from paramilitary-style assaults, from 58 last year to 66 over the same period this year.
Cyber crime
Dep Ch Const Harris said that, although recorded crimes were falling, the demand on policing was increasing with "less-visible, more complex crimes such as public protection offending and cyber crime" coming to the fore.
Policing Board chair Anne Connolly said:
"While it is welcome that recorded crime is down in the majority of the crime classifications, and overall figures are now sitting at the lowest recorded level, there are some individual statistics that generate particular concern."
Ms Connolly said the figures would be subject to further analysis, and the board awaited a report from the chief constable.