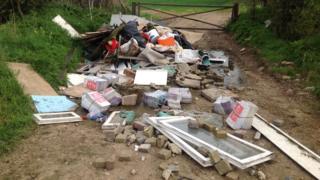 Enforcement actions by Welsh councils against fly-tippers have hit at least an 11-year high, new figures show.
In 2016-17, councils carried out 39,308 actions – which include prosecutions, fixed penalties and cautions – up 33% from 29,621 the previous year.
The Welsh government study also shows the number of incidents rose last year, following a previous seven-year fall.
The WLGA said CCTV and "intelligence sharing" was helping to catch offenders.
Since its 11-year peak of 61,995 recorded fly-tipping incidents in 2007-08, illegal dumping had been steadily decreasing, according to the latest data published by Welsh Government.
But figures began rising again in 2015-16 from 36,259 that year, to 38,614 last year.
The statistics also revealed fly-tipping cost £2.2m to clear up in the 12 months to April 2017 – £100,000 more than the year before.
Rising landfill charges – it now costs £84.40 a tonne in tax for commercial waste dumping – have been blamed for the jump.
A Welsh Local Government Association spokesman said: "As the costs of legitimately disposing of waste increase through the landfill escalator, so does the danger that some will seek to circumvent the system."
More "sophisticated" means of catching culprits, such as placing CCTV cameras at known fly-tipping spots and "intelligence-sharing" by councils have helped boost the number of enforcement actions, he said.
"However, as councils tackle the issue in partnership with bodies such as Fly-tipping Action Wales and Natural Resources Wales and get more successful prosecutions, the public has become more aware of the issue," he added.
In Treforest, Rhondda Cynon Taf council is investigating a spate of tyre-dumping incidents across different spots on four separate occasions.
The authority's director of highways and streetcare services, Nigel Wheeler, said: "These offences are a blight on the environment, and are costly and time-consuming to deal with."
A spokeswoman for Fly-tipping Action Wales, which is co-ordinated by environment body Natural Resources Wales, said it welcomed a near-70% increase in fixed penalty notices handed out to offenders last year.
"We will continue to work with local authorities and Natural Resources Wales to help improve enforcement outcomes including prosecutions, which is generally the most appropriate enforcement response for repeat offenders and those responsible for more serious cases of fly-tipping," she said.
A Welsh Government spokesman said it aimed to influence public attitudes towards fly-tipping through community involvement and education.
"Encouraging people to take pride in their local environment and to take action themselves will, we believe, lead to stronger and longer lasting improvements," he said.
Welsh Conservative local government spokeswoman Janet Finch-Saunders was concerned that prosecutions had halved in the last two years, from 105 in 2014-15 to just 55 in 2016-17.
"We need to ensure that the most serious cases are given due consideration, and anyone found in breach of the law should face the consequences," she said.
"However, it is incumbent upon local authorities to ensure that residents can access the means to dispose of their unwanted items responsibly in an efficient and affordable manner."
The Welsh Government has been given new powers to develop its own devolved taxes, including a landfill disposals tax, which will replace landfill tax in Wales from April next year.
Like landfill tax, it will be charged on disposals of waste to landfill.