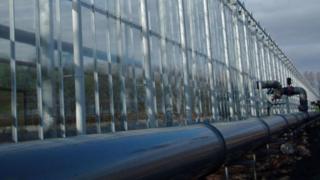 People are being asked to follow their noses to help find the source of a mysterious cannabis smell wafting across parts of East Anglia.
The "weed-like" whiff has been reported across west Norfolk and Cambridgeshire for several weeks.
British Sugar is investigating whether it is from its pharmaceutical cannabis farm in Wissington.
One council is now asking people to join an online "odour mapping" project to try to locate the source.
People living near the sugar plant in west Norfolk began reporting the smell on 21 June as the cannabis crop harvest began.
More news from Cambridgeshire and Norfolk
A week later, Fenland District Council began receiving reports as the smell travelled across the border into Cambridgeshire.
The smell is widely thought to come from the sugar plant's farm which grows a non‐psychoactive variety of cannabis for use in children's epilepsy medicine.
The company brought in an environmental specialist and odour consultant to investigate if it was responsible.
It is working with Fenland District Council and West Norfolk Borough Council, which has also received reports.
On Tuesday Fenland council's environmental health team said: "We need the public's help to assist with 'odour mapping' to pinpoint its source."
They are asking people to fill in an "environmental nuisance" form detailing "where you were when you smelt it" as well as the date, time and wind direction "if possible".
Reports on the council's Facebook page suggest it has been smelt as far away as Suffolk and Lincolnshire.
A council spokesman said: "We are looking at all possibilities, including looking at sites licensed to grow the plant by the Home Office, until the source can be confirmed."
While British Sugar continues to investigate, a spokeswoman said: "At this time we have been unable to identify a source which may be contributing to off-site odours."