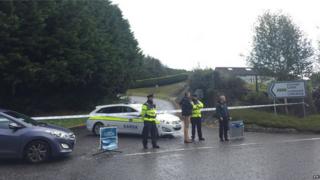 Five people including a child have been killed in two separate car crashes in the Republic of Ireland.
The first happened on the Cork to Limerick Road at about 11:00 BST on Monday. A man and woman in their 60s were pronounced dead at the scene.
Two adults and a child died in a separate crash in County Mayo which happened at lunch-time.
In the earlier crash in County Cork, three vehicles were involved.
The two people who died were passengers in a hire car that was in collision with a truck. It is understood they were visitors from the US who were with their partners.
The driver of the car and a woman passenger are being treated in hospital where their conditions are not thought to be life threatening.
The driver of a second car involved in the crash was also treated in hospital in Cork where his injuries are not thought to be life threatening. The truck driver has been treated for shock.
Separately, three people, including a child, were killed in a collision between a truck and a car on the N17 Galway to Sligo road in County Mayo.
It happened at the Claremorris junction about lunch-time.
Gardaí (Irish police) said the road has been closed and have urged motorists to avoid the area.