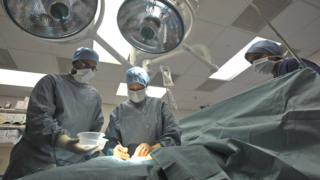 There has been insufficient debate over proposals to scrap a patients' watchdog, a director of a body advising on public consultations has said.
Ministers are considering replacing community health councils (CHCs).
But Rhion Jones of the Consultation Institute said there were a "large number of unanswered questions".
The Welsh Government said it was untrue to say there had been a failure to properly engage, saying there had been 250 responses so far.
However, the Welsh Conservatives said it was a "cosmetic" exercise and called for its deadline to be extended, stating they could not "discount the possibility" of seeking a judicial review if that did not happen.
Under the proposals, a single body could replace the existing seven CHCs, which carry out spot checks on hospitals and represent patient interests.
A three-month consultation on the proposal was launched at the end of June, and a series of eight "informal focus groups" are being held until 29 September.
But a Facebook post, found by the Welsh Conservatives, suggested one of the organisers of the events had put out a request on 2 September for help finding venues and participants, just under a month before the consultation ends.
Mr Jones welcomed the focus groups but said the decision to hold them was "belated" – something the Welsh Government denied.
He said there were "a large number of unanswered questions about precisely what ministers want if they are to replace CHCs".
"In a best practice consultation, there are plenty of opportunities to explain what the proposals mean, and to consider their likely impact," he said.
"So far, there has not been sufficient debate."
Mr Jones added: "In this particular case, abolishing a major part of the NHS structure in Wales is of such importance, and the proposals for a replacement body so unclear – some would say 'vague' – that it has cried out for transparent public sessions at which ministers and/or officials could explain precisely what they have in mind."
The Consultation Institution also held a paid-for event in Cardiff in September where the Welsh Government was invited to explain its proposals. The Welsh Government declined the invite, according to the think tank, on the grounds that it could affect the integrity of the consultation.
Conservative AM Mr Isherwood claimed the consultation had amounted to "little more than a cosmetic exercise.
"The lack of urgency Welsh Government has accorded to organising these vital engagement events – not to mention the lack of opportunity for stakeholders on all sides of the debate to properly express their views in publicly accessible events – completely undermines the legitimacy of this process," he said.
"I cannot discount the possibility of pursuing judicial review in the event that a deadline extension is not granted."
A Welsh Government spokesman said the focus group events were open and aimed at members of the public who may not usually engage with such discussions.
He said: "It is not true to say there has been a failure to properly engage and at no point have CHCs asked for any extra time.
"The consultation, which has had 250 responses so far, has been underway since 28 June and we have offered to meet key stakeholders including the CHC board.
"This consultation is not the first public engagement. The Green Paper Our Health, Our Health Service gathered people's views on this issue during 2015 and feedback from that has informed this process."