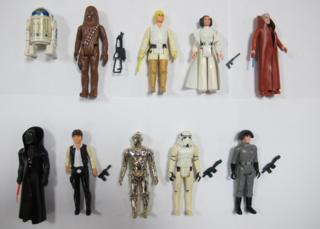 A collection of the original 99 Star Wars action figures been has sold for £2,500.
The figures, which originally were sold between 1978 and 1983 for as little as £1.59 each, failed to sell during an auction at Sheffield Auction Gallery but a deal was struck after the sale.
The collection, which was estimated to fetch up to £3,500, was put up for sale by an anonymous collector.
Auctioneer John Morgan said it had attracted "significant interest".
More stories from across Yorkshire
"It's not that rare to see a full collection but it's rare to see it come up at an auction as a job lot rather than being broken down," said Chris Malbon, who runs Metropolis Toys in Warwick and helped value the figures.
Auctioneer John Morgan said the collection had been put together by a man from Sheffield over a number of years but who has now decided to part company with the figures.
"The gentleman put them together, done, and now he has another collection he wants to put together so these must go," he said.
"There's been significant interest from around the world [in the collection]."
---
Cost a Boba Fett or two
---
Mr Malbon estimated a similar collection still in its original packaging would sell for in excess of £100,000.
"There's nothing else like Star Wars. It has captured the world in a way no other toy has. There's nothing like it."