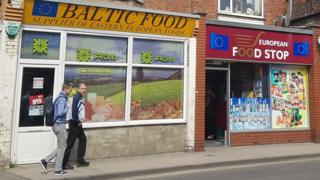 A town dubbed the UK's most anti-EU place is to receive £1.4m in government funding to help it tackle issues caused by high levels of migration.
Boston, in south Lincolnshire, is home to up to 18,000 EU migrants and was targeted by UKIP's former leader Paul Nuttall at the last general election.
It also recorded the highest leave vote in the UK, with 75.6% backing Brexit.
The town's MP Matt Warman said the cash would help tackle issues with housing and provide English lessons
More on this and other stories from across Lincolnshire
The Conservative MP said: "The controlling migration fund is a government fund which seeks to address areas where there has been a large amount of migration.
"This is £1.4m for the town to address a range of issues, from rogue landlords, houses of multiple occupation, and anti-social behaviour, through to English as a foreign language lessons."
Mr Warman said the money, which came about as a result of a joint bid from Boston Borough Council, police, and other groups, has been a long time coming.
"This is money that previous governments should have made available to places like Boston and I wished it had been available sooner."
However, he said he welcomed recognition of the specific issues affecting places like Boston.
Earlier this year, a cross-party group of MPs called for migrants to learn English before coming to the UK, or attend language classes when they arrive.
They claimed it was "the key to full participation in our society and economy".
Commenting on the fund nationally, Communities Secretary Sajid Javid, said it would be used to provide English language classes to help with better integration.
He also acknowledged the pressures rapid population change in a short space of time had put on local services.
Mr Javid said the fund would also help tackle problems with overcrowded housing and exploitative employers.