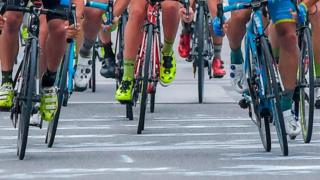 Cardiff city centre could shut to traffic one day a year to allow up to 8,000 cyclists to take to the roads as part of a deal with British Cycling.
The city centre circuit would be one of a number of activities to take place during the five-year agreement.
Cardiff is one of 10 cities chosen by British Cycling in a bid to increase participation.
The council's cabinet will consider the proposals when it meets on Thursday.
If it agrees to support the plans, the authority would have to give £100,000 a year in match funding either directly or partially through '"value in kind".
The provisional date for the first city ride is Sunday, 13 May, 2018.
Caro Wild, the council's cabinet member for strategic planning and transport, said the target is for more than 50% of journeys to be made by bike, on foot, or by public transport by 2026.
He added: "The potential to grow cycling in Cardiff is considerable with 28% of Cardiff residents saying they do not currently cycle but would like to.
"Cycling can make an important contribution to encouraging a healthy lifestyle and also offers a practical solution to Cardiff's major transport and pollution issues."