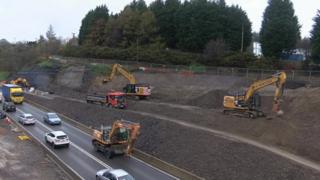 Calls for tighter controls over the cost of the A465 upgrade project are fair, transport minister Ken Skates said.
Mr Skates said contractor Costain bears more financial risk than ministers on the Heads of Valleys road overspend.
The Welsh Government says it is expecting the project to make the A465 a dual carriageway along the Clydach Gorge to be over budget by £51m.
Mr Skates would not be drawn on exactly how the bill would be split.
Questioned in the Senedd on Wednesday Mr Skates cited commercial confidentiality – but said the cost will be spread over three financial years.
The Welsh Government said on Monday that the project to turn the A465 between Brynmawr and Gilwern through the Clydach Gorge into a dual-carriageway is expected to be almost £51m over budget, and is delayed until the autumn.
The government claimed that Costain found the project "far more difficult to deliver than they originally envisaged" due to the "topography" and "complex ground conditions".
It was originally meant to cost £220m.
Nick Ramsay, Monmouth AM, said residents had complained of Costain operating in a "slacker regulatory environment than local residents would see fit".
Mr Skates replied saying he had "already asked for a lessons learned analysis to be conducted by officials".
"I think the call for tighter regulatory controls over the costs of this project are fair," he said.
Questioned about the announcement in the assembly chamber on Wednesday by Tory economy spokesman Russell George, Mr Skates said he had ordered an immediate review when he was informed of "Costain's problems" in delivering the scheme.
"The contract is absolutely clear," he told AMs. "The contractor is currently exposed to a greater level of financial risk from the overspend than Welsh Government.
"Their financial exposure should motivate them to reduce their level of risk."
"I don't think there's any hiding my disappointment at the contractor's overspend and programme delay", he said.