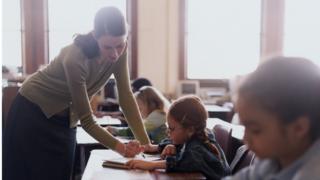 A mental health strategy promoting pupils' wellbeing is needed in Northern Ireland primary schools, an academic has said.
Prof Siobhan O'Neill said a greater early-age focus on mental health would help prevent problems developing.
Schools were currently working without an overarching strategy, she added.
The departments of health and education have said there are currently "strategies, interventions, and networks" in place.
But many schools were working to address the needs of pupils by developing their own plans, said Prof O'Neill, from the Bamford Centre for Mental Health and Wellbeing at the University of Ulster.
Anxiety problems, phobias and behavioural problems are being identified in pupils at primary school level, she added, and these need to be managed.
"The good news is the child's brain is really malleable so there are lots we can do if we get in there really early," she said.
"That requires leadership and a strategic approach."
Prof O'Neill said the current curriculum does not enhance self-regulation skills or a pupil's ability to identify emotional states.
Meanwhile, the principal of Drumragh Integrated College in Omagh said a comprehensive strategy was also needed at post-primary level schools.
Nigel Frith told BBC Radio Foyle teachers were faced with a "tidal wave of teenage anxiety".
"I feel as though we are standing on the beach with buckets trying to catch this tidal wave," he said.
"There must be something more that we can do."
In a joint statement, Northern Ireland's Department of Health and Department of Education said mental health and wellbeing was already an integral part of the school curriculum "at both primary and post-primary levels".
"A wide range of other strategies, interventions, and networks are also in place that, at least in part, aim to promote the mental health and wellbeing of the school age population."
The statement added that a framework across government for supporting young people – which may include school-based interventions – is currently subject to ministerial agreement.
At present there are no ministers in office in Northern Ireland because of an ongoing political stalemate.