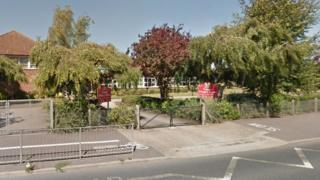 A head teacher who punished children by locking them in rooms has been told she can go back into teaching.
Alison Earl, who taught at Tollgate Primary School in Bury St Edmunds, was found guilty of unprofessional conduct.
An official for the education secretary said in a report she would not face any disciplinary action, saying she was "misguided" and "not malicious".
Mrs Earl said she had learned from her mistakes and "still has something to offer" with teaching.
The National College for Teaching and Leadership panel heard on 10 August how, under Mrs Earl's leadership, staff would put children into solitary confinement for bad behaviour.
Children could regularly be heard "shouting or crying" from the rooms, the panel was told.
'Good intentions'
Mrs Earl resigned from the school in December 2015. She now works for Cambridgeshire ACRE.
The 55-year-old said the rooms were used with the "good intentions" to keep children safe and to prevent them from being physically restrained.
She said she realises she should have put in more support.
"I would want to learn from experiences and although it's been perhaps costly in many ways, I would like to see some good come out of this situation," she said.
She said she would give herself more time to reflect before deciding whether to go back to teaching.
"The decision not to take any further action against me was a great delight," she added.
The panel said it was "inappropriate" for the rooms to be used to discipline children but said it did not feel Mrs Earl should be struck off.
Alan Meyrick, the senior official who made the decision on behalf of the education secretary, said in the report that he accepted the panel's recommendation.
He said she was unlikely to make the same mistakes again and a prohibition order was not necessary.