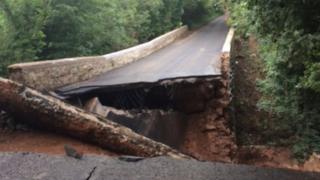 A bridge on the Iniscarn Road near Desertmartin, County Londonderry has partially collapsed.
The road has been closed in both directions.
DUP councillor for Moyola Anne Forde, told the BBC she thought the recent bad weather had affected it.
"It's an old railway bridge. Some time ago there was a wee bit of work done to it but the weather we had last week, I have been led to believe the structure may have been damaged," she said.
"It's a wee country road. There would be a considerable amount of traffic using and it a lot of famers would use it. It's a bit of a calamity," she added.
A spokesperson for the Department for Infrastructure said: "The Department is aware of the bridge collapse at Iniscarn Road outside Desertmartin.
"The road has been closed and a local diversion has been put in place.
"The extent of the damage will require full assessment by Departmental Bridge Engineers. This will be undertaken as soon as practical."
The PSNI tweeted: "To avoid current closure at Iniscarn Road drivers coming from Draperstown must go right onto Brackaghlislea Road and then left onto Gortahurk Road."