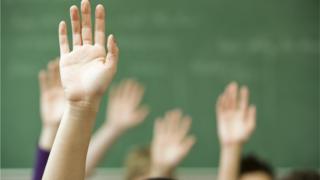 A secondary school in south Belfast has told parents it will close to pupils at 13:00 every Wednesday from early December.
The principal of Breda Academy blamed budget pressures and ongoing industrial action by teaching unions.
Two weeks ago, school leaders said pupils may be offered fewer subject choices and the school day could be cut due to a "budget crisis".
The warning came from the leaders of 80 of Northern Ireland's largest schools.
On Wednesday, Breda Academy principal Matthew Munroe said the cut in hours was "an essential response" to ongoing financial pressures and the associated short-of-strike industrial action.
Mr Munroe said that perhaps this represented an inconvenience for some parents and students, but the school had tried to select a day in a way that made it easier for parents to adapt to any routine in a simple and consistent way.
In a letter, he said that students would not have registration but would go to class at 08:35 GMT on Wednesdays.
Mr Munroe said lessons would be cut to 30 minutes on Wednesday and there would be a longer morning break instead of lunch.
'Ludicrous'
In a statement the director of the National Education Union (NEU) said "linking the half-day closure of the school on Wednesdays to union industrial action is ludicrous".
Mark Langhammer added: "The NEU is taking industrial action at Breda and elsewhere, sparked by the minister of education's decision to award 0% to teachers in October 2016.
"If Breda Academy has insufficient funding to run for five full days a week, that's because its funding is insufficient.
"There is no industrial action that NEU are taking at this school, or others, that would generate one extra penny if action ceased tomorrow."
South Belfast MP Emma Little-Pengelly said she had been contacted by a number of parents. They are concerned about the reduction of teaching time for pupils and the mid-term nature of this change.
In a post on her Facebook page, the DUP MP said: "I am in contact with the Department of Education, the Education Authority and I will be raising this issue directly with the principal on Friday morning at the arranged meetings."
A fortnight ago, a joint statement from organisations representing principals, governors and school finance managers on 13 November, said many schools were in a "critical situation", facing budget deficits of as much as £1m.
Their caution came on the same day that the 2017-18 education budget was published by the secretary of state.