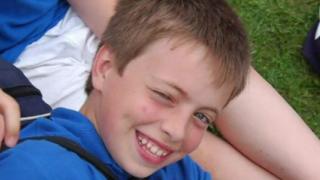 A 14-year-old boy died after he was strangled by his rucksack when it became entangled in a ski lift, an inquest has heard.
Kieran Brookes from Devon was on a school trip to France in February 2011 when a strap caught round his neck.
An inquest in Exeter heard he was suspended in mid air for four minutes as he fought to free himself.
The coroner concluded the boy's death was an "unlawful killing".
More stories from across Devon and Cornwall.
Attempts were made to revive the Torquay Grammar schoolboy before he was taken to hospital with a brain injury.
Pathologist Amanda Jeffery told the inquest it was unclear whether Kieran was "carrying or wearing a rucksack" when the incident happened in the Alpine resort of Chatel.
The lift is thought to have continued around 180 degrees as the boy struggled to free himself, and it is claimed there was a 30-second delay in stopping it.
'Kicking legs'
Fellow pupil Harry Davies-Hinds said Kieran had twice got his ski jacket caught in the lift and he heard Kieran "shouting for help" as he dangled from the lift.
"I did not recognise it was Kieran. He was caught by his rucksack strap around his neck, kicking his legs around," he said.
Charlotte Pittocho, a teacher on the trip, said Kieran had boarded the ski lift ahead of her and she was not aware of any problem until the lift stopped and a siren went off.
She said she saw someone suspended 50 feet above the ground from a ski lift chair.
"The boy was kicking and shouting but I could not be sure what he was saying. He still had his helmet on and I could see he didn't have his skis," she told the coroner.
"From where I was sat the boy had his back to me and he was continuing to struggle. I could not see how he was attached to the bottom of the chair lift but it looked like he was holding his weight in his arms.
"I could see he was now unconscious and looked like a doll. At this point I was really upset and it was really traumatic to watch."
Other pupils said there were "small signs" telling skiers to carry rucksacks on their front and not their backs, but no staff or instructors enforced this.
CPR was administered on the ground before Kieran, from Bovey Tracey, was flown by helicopter to a hospital in Annecy.
He was transferred back to the UK but died at the Royal Devon and Exeter Hospital on 17 March.
Trip organiser James Bainbridge said he had informal briefings with the school party about using ski lifts and could not explain why the pupils could not recall this.
'Inadequate warning signs'
The lift supervisor, 50-year-old Richard Cettour, was found guilty of involuntary manslaughter and handed a six month suspended prison sentence in 2015.
Lift operator Sports et Tourism a Chatel, was cleared of the same charge.
John Tomalin, deputy coroner for Exeter and Greater Devon concluded it was an unlawful killing and said he would be writing a report to highlight the dangers posed by ski lifts.
"Kieran Brookes died as a result of unlawful killing because appropriate mechanisms were not in place to halt the ski lift in time," he said.
"There were inadequate and inconsistent warning signs about the dangers of wearing backpacks on chair lifts.
"My report should deal with the usage of backpacks; concerns about the warning signs near ski lifts; advice and guidance on when to wear backpacks and the risk of loose straps."