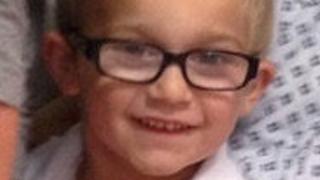 A five-year-old boy was found drowned more than two hours after his mother and stepfather let him "go off by himself", a court heard.
Charlie Dunn, who could not swim, was pulled from a lagoon at Bosworth Water Park in Leicestershire in July 2016.
His stepfather Paul Smith was overheard saying he did not know where the boy was, Birmingham Crown Court was told.
Charlie's mother Lynsey Dunn and Mr Smith, from Tamworth, Staffordshire, deny causing death by gross negligence.
Charlie was pulled from the 1.4-metre deep pool, known as the Blue Lagoon, by other children, jurors heard.
Opening the Crown's case, prosecutor Mary Prior QC said Charlie was supervised near the water by strangers – including a man who was mistaken for his father – after being left alone.
Mrs Prior told the court: "No-one knows how it happened, no-one knows why it happened and at the time he died neither Miss Dunn or Mr Smith had any idea where he was.
"Charlie had been permitted to go off by himself. The prosecution say that Charlie died because he was not supervised by any adult."
Mrs Prior added that the defendants had shown "ingrained and entrenched indifference" at the time of the tragedy.
She also claimed they only saw Charlie during the two-hour period "for the odd minute" when he returned to their car for something to eat or drink.
Mrs Prior said: "This case is not about parents turning their back for a minute whilst a tragedy occurs.
"This is a gross failure to supervise not for seconds, and not for a few minutes, but for protracted periods of time in circumstances where the child was exposed to danger."
The court also heard that a woman had told the couple in "no uncertain terms that she was not happy that they were not supervising Charlie near to the water" during a previous visit to the park.
Both defendants are said to have replied that Charlie "would be all right".
In 2015, a neighbour prevented the unsupervised toddler, then aged four, from driving a toy car on to a main road, the jury was told.
Mr Smith, 36, and Ms Dunn, 28, of Caledonian, Glascote Heath, both deny causing the youngster's death by gross negligence by permitting him to enter a bathing area unsupervised.
The trial continues.