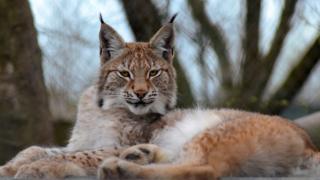 A Welsh zoo is "truly devastated and outraged" that an escaped wild cat has been killed.
Lilleth, the Eurasian lynx, had escaped from Borth Wild Animal Kingdom but Ceredigion council said on Friday that she had been "humanely destroyed".
The council said despite "exhaustive efforts" to recapture her, it received advice that the risk to public safety had "increased to severe".
But the zoo owners have condemned the "hunting and killing" of Lilleth.
A statement on Borth Wild Animal Kingdom's Facebook page said: "The decision to kill her was not ours and we in no way agreed to or participated in the shooting of our baby lynx."
"We are truly devastated and outraged that this happened," added the statement.
Ceredigion council said on Friday the lynx had strayed over to a populated area of the community and "it was necessary to act decisively".
"The safety of the the public was paramount," the council statement added.
Staff at the zoo, which has been closed since Lilleth's escape, had been attempting to catch her.
She is believed to have escaped after making a "giant leap" over an electrified fence.
There had been a number of sightings but she evaded capture and was at one point thought to be hiding in bushes near the zoo.
Ceredigion council and Dyfed-Powys Police said they had tried a "range of measures" to capture the Lynx, including baited traps.
Ceredigion council has said it would carry out an inspection of the zoo later this month.