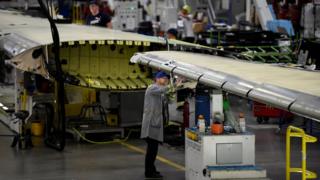 MPs on the Northern Ireland Affairs Committee have expressed regret there are no Stormont ministers to fight for Bombardier jobs in Belfast.
About 1,000 jobs in Belfast are tied to CSeries aircraft wing production.
Some jobs are seen to be at risk due to a tariff complaint brought by Boeing in the United States.
Independent Unionist Lady Sylvia Hermon and the DUP's Ian Paisley raised the issue during an evidence session with government officials.
Mr Paisley said if there was an executive, ministers "would be on the first plane to Newark and down to Washington".
The US Department of Commerce has made a preliminary finding against Bombardier, imposing 300% tariffs on future imports of CSeries aircraft into America.
It is due to make another determination next month, following a complaint from Boeing about aid to Bombardier in the UK and Canada.
Speaking during the hearing, Lady Hermon, in terms of lobbying efforts, asked officials: "How did we miss out on Arlene Foster and Michelle O'Neill going out to Washington together?"
Mr Paisley interjected: "The issue is there has not been a first or deputy first minister for the last nine months."
He added: "If there was a normally functioning executive… they would be lobbying very hard, carrying the flag and championing the case.
"That is noticeable by its absence."