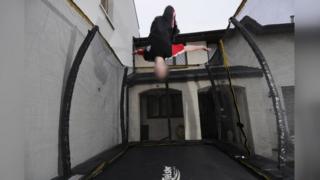 A trampolining teenager's family has been warned they could face a £2,000 fine after a neighbour complained about the boy's behaviour.
The mother received a warning letter from Blackpool Council following complaints about her 13-year-old son bouncing in their garden in the town.
A neighbour said noise from the repeated trampolining was disturbing her.
Police said the behaviour had also included verbal abuse and egg throwing.
A spokesman for Lancashire Police said it had received "a number of complaints" regarding "two adjacent homes" in Victory Road, North Shore.
'Exhausted options'
A Blackpool Council spokesman said the authority had been working with police to resolve the matter but had "exhausted our options".
It was forced to issue a Community Protection Warning letter due to the behaviour "causing alarm, distress and harassment", the spokesman said.
The letters are issued to demand that antisocial behaviour affecting the wider community must cease.
If the warnings are ignored, councils have the power to issue fines to individuals or businesses.