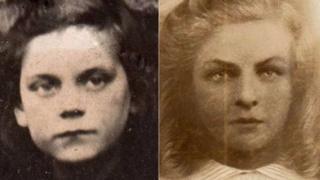 A bid has been launched to restore the graves and headstones of two Blaenau Gwent schoolgirls who were murdered nearly 100 years ago.
Freda Burnell and Florrie Little were killed by 15-year-old shop worker Harold Jones in Abertillery in 1921.
As a juvenile offender, Jones was spared hanging and was sentenced to life in prison.
The campaign is raising funds to restore the girls' graves at Brynithel Cemetery.
Freda went missing on 5 February and was found dead the next morning in an alley.
Jones was arrested the following week and charged with murder but he denied the charges and was acquitted at his trial on 21 June.
Just 17 days later, he went on to murder 11-year-old Florrie, his neighbour, at his home where he concealed her body in the attic.
He was arrested and went on to admit both murders before being jailed.
Jones was eventually released on parole in 1941.
Neil Milkin, who set up the restoration campaign, said he was spurred on to act after speaking to relatives of the girls who were upset by the state of the graves.
"I started researching the story 13 years ago and was determined to do something but only now has the time been right," he explained.
Julie Holt, who has helped organised the fundraising campaign online, wrote: "We need the help of the community to raise funds to restore the graves of Freda Burnell and Florence Little.
"Plans to do this have been put in place more than 90 years after the girls were murdered."
She continued: "Two ornate gravestones for the girls were originally funded through public subscription by local residents.
"Now, nearly a century later, this fundraising page has been set up to restore the graves which are in Brynithel Cemetery."
One donor wrote: "What a terrific project, and it's so encouraging to see the amount of interest that has been shown so far. Very proud to be a part of this!"
Another wrote: "We're new residents in Abertillery and would love to support this memoriam. Hope our donation helps."