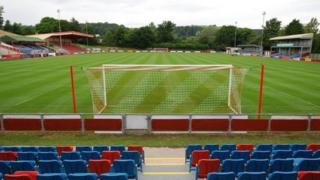 A national football museum for Wales could be built in Powys after plans were submitted to bring it to one of the country's oldest football clubs.
Newtown and Llanllwchaiarn Town Council has written a letter in support of the plan for a consortium to build a football museum in mid Wales.
The council argues the museum would be in keeping with the proposed mid Wales growth deal.
The museum would be near the home of Welsh Premier League club Newtown AFC.
The town council called on the Welsh Government to locate the National Football Museum of Wales in Newtown in a feasibility submission to Just Solutions Leisure Consultants.
The letter said the museum could be part of a growth deal which would "revolutionise" the way towns and villages in Wales govern themselves and could help Newtown become a "destination town".
The consortium will apply for £1.1m of lottery funding to help develop the 121 acre (49 hectare) site, which includes Newtown AFC.
The football club was established in 1875 and was one of the founder members of the League of Wales.
Wrexham has also been suggested as a site for a football museum in north Wales.