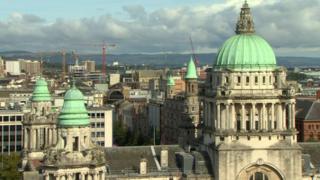 Belfast has slipped from 5th to 30th position in two years in a ranking of the economic performance of UK cities.
The study from PwC says while Belfast has seen "good job-creation", lower wages and poorer productivity are among the factors behind its fall.
It ranks 42 cities based on economic performance and quality of life.
It adds Brexit will have "a profound impact" on Northern Ireland and the "challenges facing Derry are particularly acute".
The report, Good Growth for Cities 2017, also says: "The lack of an Executive for the better part of this year has not helped."
The index underscores the fact that Northern Ireland's recovery from recession "has not been at the same level" as the rest of the UK.
"The challenge is to learn the lessons from fast-improving English regions," said Paul Terrington, PwC Northern Ireland regional chairman.
"It needs to get the balance right between investment and reform and maintain a clear focus on driving improved productivity and economic growth while delivering public services efficiently."
Oxford, Reading and Southampton are the three top-ranked performing cities in the UK.