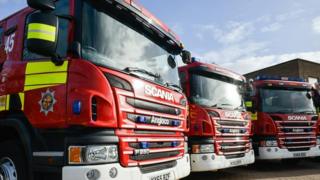 A fire brigade has made more than £8,000 from non-emergency call-outs in two years, it has emerged.
Bedfordshire Fire and Rescue Service started billing people last year for phoning 999 if they are locked out of homes or stuck in a lift. It already charged for services such as pump hire in a flood.
Firefighters must focus on "genuine emergencies", the brigade said.
However, the Taxpayers' Alliance called the charges "deeply unfair".
A Freedom of Information request revealed that the brigade had collected £8,015 for non-emergency call-outs since 2016.
For flooding-related services, such as pump hire where a basement is underwater, the fire service made £3,086 during the two-year period.
"Petrol leak" charges came to £561 and other minor charges came to £907.
'Negative impact'
For lift rescues the brigade received £1,821, while it made £1,640 from people who were locked in or out of their homes. It only started charging for these two services in February 2017.
Members of the public are billed £266 plus VAT per hour for lift releases and lock changes.
Steve Allen, group commander at the fire service, said non-emergency calls had a negative impact and diverted resources away from the people who really needed them.
"Many incidents Bedfordshire Fire and Rescue are called to turn out to be non-emergencies," he said.
"This constitutes a potential cost to local taxpayers and also means firefighters are not available to deal with other genuine emergencies."
However, chief executive at the Taxpayers' Alliance John O'Connell said: "Taxpayers already pay much more in council tax than they did 20 years ago and face tax hikes almost every year. So to ask them to pay even more for services that warrant a fire brigade call-out is deeply unfair.
"Either the fire brigade needs to be called out to an incident or it doesn't, there shouldn't be a grey area for residents."