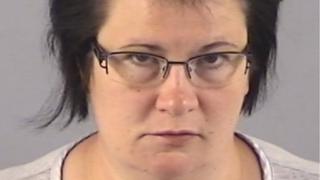 A woman who poisoned her grandmother and stole money from her account while she was in hospital has been jailed for two and a half years.
Jennie Greaves, 37, who was raised by her grandparents, administered anti-depressants to Adele Andrews, 87, who was repeatedly admitted to hospital.
While there, Greaves used her bank card, stealing about £5,000 in total.
Greaves, from Beaulieu, Hampshire, admitted poisoning and two counts of fraud by false representation.
Southampton Crown Court heard that in the summer of 2016, Mrs Andrews had undergone tests for strokes and seizures after being admitted to hospital.
Urine tests revealed traces of amitriptyline. Thee court heard Greaves had used it to poison her grandmother.
'Loved her so much'
Greaves clocked up a bill of more than £2,500 at Carey's Manor hotel in the New Forest, withdrew £2,480 in 17 transactions and spent money on stays in two Travelodge hotels.
The court was told, while on bail, Greaves had also stolen nearly £3,000 from another elderly man who had allowed her to stay in his home.
Her defence barrister argued that she had endured a difficult life with many personal struggles and had been caring for her grandmother with no help.
In her victim impact statement, Mrs Andrews said: "I've no idea why she's done what she's done. We are family and we gave her so much.
"I loved her so much… Jennie has done so much to hurt me."
Judge Gary Burrell QC said: "Caring and helping an elderly person was no doubt difficult and stressful and you had no support from outside agencies, but that does not excuse what you did.
"You administered poison in order to stupefy or pacify your grandmother for your own benefit.
"That was simply unfair to your grandmother and risked causing her serious injury – she was a sick and vulnerable old lady."