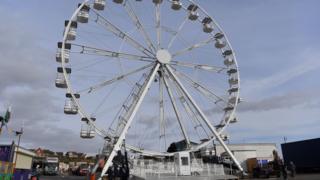 A funfair has been ordered to take down a ferris wheel by planning officers, its owner has said.
Barry Island Pleasure Park's owner Henry Danter said Vale of Glamorgan council told him it does not comply with planning regulations as it is too high.
He said the decision was "a disgrace" because the wheel was "a few feet higher" than permitted.
The council said he had "accepted that planning permission was required".
It added that it had "not expressly asked" him to remove the wheel, "only to follow the relevant legislation and seek planning permission".
Mr Danter said the council has also raised issues with the resurfacing of the funfair.
It comes after councillors told him he must tear down an extension to the Treasure Island and Funfair arcade in June, after the local authority said it was added "without proper authority".
"This is the biggest attraction that has happened to Barry, it's for everybody in Barry", Mr Danter said.
"I think the council is just unreasonable. I think they ought to work a little closer with us."
A council spokesman said: "At a meeting with council officers on Tuesday, Mr Danter was reminded of the need to submit a planning application for a number of unauthorised developments on the fairground site, including the ferris wheel."
The spokesman added that Mr Danter has been advised a planning application "should be submitted as soon as possible" so that "the acceptability of the structure could be assessed as part of the planning process".