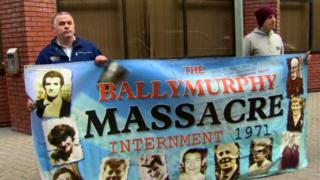 The families of 10 people shot dead by the Army in west Belfast in 1971 are to start civil proceedings against the Ministry of Defence.
They are due hold a vigil outside the MoD later and hand a letter in to Downing Street.
The Ballymurphy families represent 10 people killed in west Belfast as the government introduced internment.
In September, they walked out of a meeting with Secretary of State James Brokenshire.
They had urged him to release funds for inquests into the shootings.
Speaking before travelling to London, John Teggart, whose father was one of those shot dead, said: "The outcome that we would hope that those responsible – the MoD the paratroopers – will admit what happened and admit responsibility."