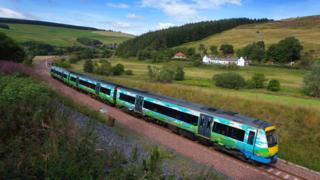 Some rail routes, closed for over 50 years, could be given a new lease of life as part of the government's latest plan for the network.
Transport Secretary Chris Grayling said rail lines would be re-opened if they unlock jobs, encourage house building, ease congestion and offer "value for money".
So what are the prospects for those areas which could see their disused lines restored?
Here we take a look at the impact of the reborn route between Edinburgh and the Scottish Borders, and two other areas preparing for reconnection.
---
The Borders Railway
The line was officially reopened by the Queen in September 2015 after nearly half a century. It was closed, along with thousands of stations and hundreds of branch lines, as part of the Beeching cuts in 1969.
It carries passengers between the Scottish Borders and Edinburgh along a 31-mile route.
The Borders Railway is the longest domestic railway to be built in the UK in more than 100 years – and the possibility of extending it to Carlisle via Hawick is also under consideration.
Impact?
The Borders Railway celebrated its two-year anniversary in September and VisitScotland says it has had a "massive impact".
More than 2.6 million passengers used the railway between Tweedbank and Edinburgh during those two years.
A report looking at how the line had affected the area, released in June, claimed the Borders Railway was attracting new workers, homeowners and tourists to nearby communities.
The independent study, commissioned by Transport Scotland and the Borders Railway Blueprint Group, found the line had been a "major factor" in decisions to relocate to the area.
It also found that many visitors would not have made their trip without it.
10.6% Increase in visitors to Abbotsford House near Melrose

65% Visitors using the railway saying it was a factor in their decision to make their trip

8% Tourism employment increase in the Borders
Dougie Johnston
Simon Walton, chairman of Campaign for Borders Rail, said the line has "truly put the Borders on the map" and wants to see it extended to Carlisle.
He said: "We've proved it can be done. Any engineering or administrative difficulties in reopening can be overcome.
"We support other projects around the country – because we've proved that a railway makes a tangible difference to the social and economic prospects of any region."
---
East West Rail
One of the new railways already approved is the new East West Rail between Oxford and Cambridge.
Work starts next year on a route that will reduce public transport travel times by almost two thirds.
The line will be fully open by the mid 2020s
Impact?
The corridor connecting Cambridge, Milton Keynes and Oxford could be the UK's Silicon Valley – "a world-renowned centre for science, technology and innovation" – according to a report from the National Infrastructure Commission.
But it says the chances of that happening are hampered by a chronic undersupply and poor east-west transport connectivity. Oxford and Cambridge are two of the least affordable cities in the UK so opening up new areas to build the homes that future employees will need is vital.
At present "commuting between key hubs on the corridor is almost non-existent and the area does not function as a single labour market", it says.
A journey which currently takes over three and a half hours by bus will take an hour and a quarter on the new line.
One of the main benefits will be increased opportunities for cooperation between the two universities and the booming tech and science sectors in the two cities.
Professor Daphne Hampson, who spends time at both Oxford and Cambridge universities, says anything that will cut down journey times would be beneficial.
She said: "It would help the exchange of ideas and cooperation between Oxford and Cambridge.
"It's a very difficult journey and most of the people on the bus are either older like me, or students who don't have access to their own transport.
"One thing that the new trains must do is take bicycles. Being able to ride to and from the station is a big time saver."
---
Newcastle to Ashington
The Ashington, Blyth and Tyne Line, as it is known, is a 20-mile route which connects Newcastle with Ashington in south-east Northumberland – although it does not actually go to Blyth anymore as that bit of track was removed.
It is currently a freight line after passenger services were withdrawn in 1964.
Northumberland County Council are working on a scheme to reintroduce passenger services, but it is not yet at the commission stage.
Network Rail estimated the line would cost about £191m to complete.
Impact?
Dennis Fancett, chairman of the South East Northumberland Rail User Group, says reopening the line to passengers would be a boost to young people in the area.
He said: "I don't deny that some people have cars. But those who don't have cars – typically young people going to school or college – can't get to work easily.
"And there are obviously a lot of family units who only have one car and have two or more people who need it for work.
"Buses are very slow, very expensive and not the easiest way of getting to where you need to go. They don't connect to the Metro network, don't connect to the train."
According to a report for Northumberland County Council, reopening the line – and connecting it to the region's Metro system – could boost the economy by up to £70m a year and offer transport to more than 380,000 people every year by 2034.
Mr Fancett says a train network would allow people to get into central Newcastle in around 25 minutes.
Ashington was badly hit by the collapse of the coal mining industry and was left with high levels of unemployment.
Mr Fancett says making the area more accessible would create employment, regenerate the local economy and make it a more attractive place to live.
Tourism in Northumberland would also likely see a significant boost, with visitors arriving in Newcastle from elsewhere in the UK or from overseas and then travelling into the countryside on the new line.
He added: "Reopening the Ashington, Blyth and Tyne line should be the easiest re-opening scheme in the entire country to achieve as all the tracks are there and fully maintained."